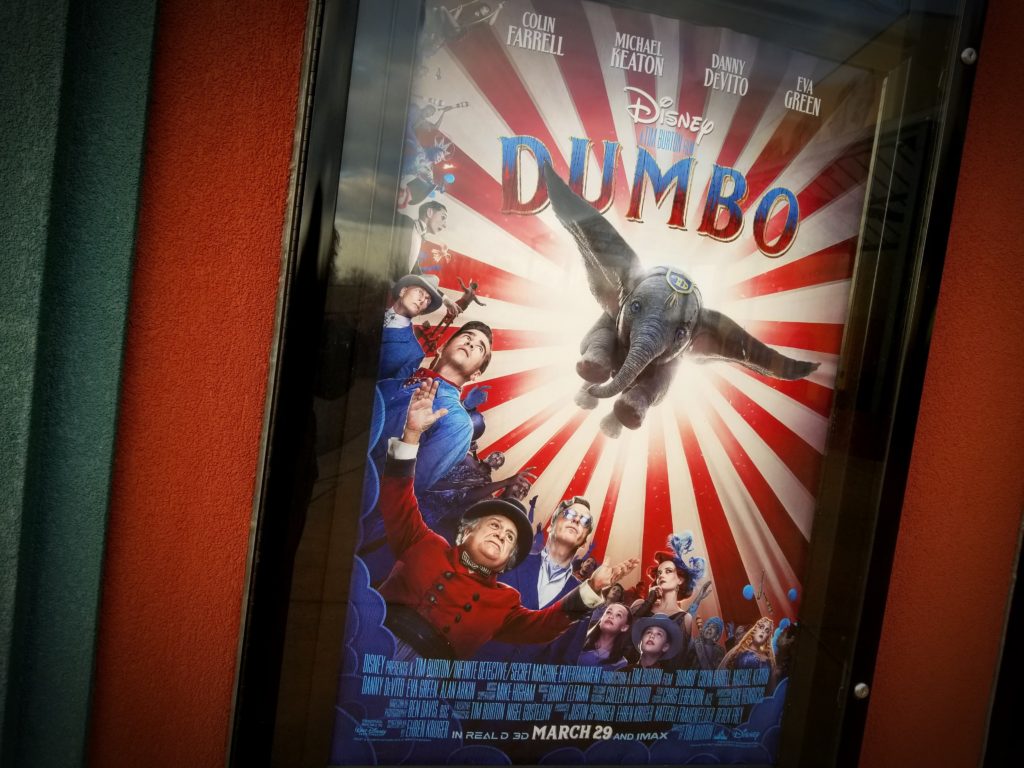 It has been a long, long time since I last saw the 1941 original "Dumbo," so there's very little about it that I remember – y'know, aside from the obvious "cute baby elephant with piercing blue eyes and ears big enough to pick up free HBO."
But what's not to love about the idea of a live-action version, directed by Tim Burton and co-starring a villainous Michael Keaton, right?
This new "Dumbo" drops us into Sarasota, Florida, circa 1919 and the financially strapped Medici Brothers' Circus (psst… keep an eye on that sign).
Holt Farrier (Colin Farrell), the lead of former stand-out act The Stallion Stars, returns from war, no longer able to do the thing that sells the tickets.
It's obvious that the show is struggling: "We're all wearing multiple hats." But Master of Ceremonies Max Medici (Danny DeVito) has his hopes and livelihood invested in an Asian female elephant, and "… she's havin' a baby!"
But when that baby's freakishly large ears appear to be a hiccup Holt's children – science whiz Milly (Nico Parker) and the always curious Joe (Finley Hobbins) – accidentally discover otherwise.
If you thought the title character from the animated original was adorable (and who didn't?!), wait'll you see the star of this show.
Heart. Melt.
There's a lot to like about the new "Dumbo," but it wasn't the emotional force I really was hoping for.
Don't get me wrong; Dumbo is precious, and his cuteness is what saves this film. His big, eager eyes and affinity for plumage is worth the price of admission for sure.
The story is fine, though my husband was upset at the omission of some memorable events from the original.
The acting is engaging, and Keaton's bad guy is both comical ("Is that a monkey in your desk?") and dastardly, safe enough to not scare the young 'uns but smarmy to the point that you understand his intentions. And if you don't, the shadows in which his likeness is cast will no doubt spell it out.
There are plenty of harrowing moments as well as scenes that will give a little tug at your heartstrings, make you chuckle and keep you invested; there's the occasional (trippy) nod to the original, and a tip of the hat to Busby Berkeley musicals; those shots from Dumbo's perspective take us for a ride and offer a lovely flying elephant's eye view.
So, if you have any interest in this little pachyderm's live-action adventure with its seamless and often dazzling effects, it's worth investing your time.
It's cute, it's very pretty, and it's enjoyable. And in this case, that's enough.
"Dumbo" likely won't leave you bawling your eyes out, but maybe that's a good thing.
You have just enjoyed the insights of Movie Addict Mel, a cinema dork and conversational writer. Follow her on Twitter @movieaddictmel, and "like" her Facebook page www.facebook.com/movieaddictmel.